Contact

Marc Vendl
Park Administrator
mvendl@cityoflogansport.org
Administrative Assistant
(574) 753-7388
Phone:
(574) 753-6969
Fax: (574) 753-4600
Department Hours:
8:00 A.M. – 4:00 P.M.
Monday thru Friday
1701 Dividend Dr
Logansport, IN 46947
Get Directions
Resources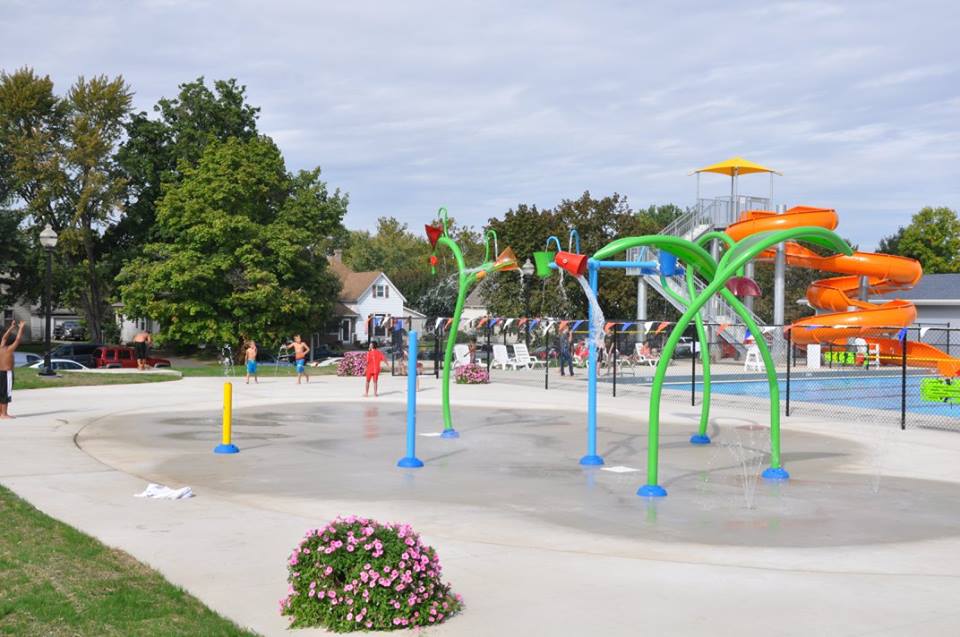 Muehlhausen Park Aquatic Center
MUEHLHAUSEN PARK is closed FOR THE 2016 SEASON effective Thursday, August 4, 2016
721 21st St.
Logansport,  IN 46947
Pool Manager: Lindsey Forgey
Pool Business Manager: Dylan Bice
Mission: To provide aquatics activities that encourages physical fitness and family fun in a safe and healthy environment.
Schedule for Summer 2016
The pool closed for the season on Thursday, August 4, 2016
Activity Fees
Child, ages 0-4 Free of charge
Child, ages 5-16 $2.00 per person
Adult Ages 17 and older $4.00 per person
Punch Card-Child or adult to use $40.00 for 20 visits
Punch Card-Child or adult to use $75.00 for 50 visits
Swim Lesson(8-30 minute sessions $30.00 per person
One-on-One or small group lesson $30.00 per person
Junior Lifeguarding $30.00 per person
Swim Lessons
Swim Lessons are offered throughout the summer to any person 2 years of age and older. For novice swimmers, lessons focus on water safety and elementary skills. Lessons for more advanced swimmers will focus on strokes used in competition. Adults interested in advancing their swimming skills should make arrangements with the pool manager. Parents can sign up at the Muelhausen Park Aquatic Center during regular operational hours
The cost per session is $30.There are four (4) sessions that include 8-half hour classes, which run Tuesday through Friday for two weeks. Saturdays are then available as make-up days when weather causes a class to be cancelled. Morning lessons (10:00-10:30; 10:35- 11:05 & 11:10- 11:40) are offered during sessions "2" – "4". Evening lessons (6:00-6:30; 6:35-7:05 pm) are offered during sessions 1 & 3.
Session dates are as follows:
Session 1 (evening) – June 7-17 – 6:00-6:30 pm & 6:35-7:05 pm
Session 2 (morning) – June 21-July 1- 10:00-10:30, 10:35-11:05, 11:10-11:40 am
Session 3 (evening) – July 5-15- 6:00-6:30 pm & 6:35-7:05 am
Session 4 (morning) – July 19-29- 10:00-10:30, 10:35-11:05, 11:10-11:40 am
One on One/ Small Group Swim Lessons
Individual lessons offer one-on-one instruction for all ages and all abilities. These lessons are 30 minutes long. Small group lessons offer instruction for 2-3 swimmers similar in age and swimming ability. These lessons are perfect for any swimmer(s) who would like individualized attention and a lesson specific to their swimming needs. Schedules for these lessons are made on a case-by-case basis. For more information, contact the Pool Manager.
WaterAerobics
Tower Park Lifeguard Staff will be offering water aerobics to those interested. Classes take place every Tuesday and Thursday night immediately following regular pool program hours. Classes will begin in July.Cost per class: $2.00 per child, $4.00 per adult. Buy a punch card and save big!!
Junior Lifeguarding
Junior lifeguarding sessions are offered to 12-14 year olds. The focus of Junior Lifeguarding sessions is to give younger teens an opportunity to discover more about lifeguarding. The session includes 4 hours of instruction including actual practice time in the pool. The sessions do not replace lifeguard certification, but it does prepare students for the training. Students will receive a certificate upon completion of the week-long course and get to spend on day shadowing a lifeguard while on duty.
Each session costs $30 per person. A Junior Lifeguarding session includes 4 -one hour classes, Tuesday through Friday.
Session dates are as follows:
Session 1(morning lessons 10:40-11:40)- June 21-24
Session 2(morning lessons 6:05- 7:05) – July 12-15
Lap Swimming
Times for lap swimming are frequently available to interested adults. Lap swimmers may utilize the "short course" (25 yds.) during morning or evening swim lessons as well as during open swim hours. General admission fees apply. Lap swimmers who achieve a goal of 25 miles during the summer will be eligible to receive a free t-shirt from Muelhausen Park Aquatic Center.
Pool Rentals
Muelhausen Park Aquatic Center is available to rent for private parties. The entire facility is available and guards are provided. Reservations are to be made 2 weeks in advance, and the cost is $110 per hour, or $83 per hour for Logansport City Residents or $55 per hour for non-profit organizations. Contact the Pool Manager for more information.
Parks & Recreation News & Updates
FAQS
Only McHale Pavilion at Riverside Park has air.

Alcohol is not permitted on park property.

Yes, 15 MPH. Please watch for children & pedestrians.

No, pavilions are rented with the tables in them.

No, they are on a first come-first serve basis.

Only with permission from the Parks Administrator

Yes, all parks have the specific containers and urge you to use them properly.

Yes, including the pavilion floor.

According to Ordinance #01-14 It shall be unlawful for any person to use or operate any sound-producing or sound amplifying device (including vehicles) in such a manner or with such volume as to annoy or disturb persons in its vacinity.

Ground fires are not permitted, fires for cooking are permitted only in grills such as those provided throughout the parks.

No (does not include Senior grocery Bingo)

Yes, all minors must have an adult parent or guardian with them.

No, only in the designated areas.

No, especially motorized vehicles. All wheeled vehicles must remain on the paved surfaces.

Absolutely not! Contact the Logansport Police Department at 574-753-4101 if you see this being done..

Dogs are allowed in the parks as long as they are on a leash; dog waste MUST be disposed of properly.

Logansport Parks sponsors Minor League softball.