Contact

Bernard S Mittica
Logansport Fire Chief
firechief@cityoflogansport.org
Phone:
(574) 753-3102
Fax: (574) 722-3842
Department Hours:
8:00 A.M. – 4:00 P.M.
Monday thru Friday
Central Fire Station
630 High Street,
Logansport, IN 46947
Get Directions
Resources
Applications:
Request Forms:
Who Do I Call For: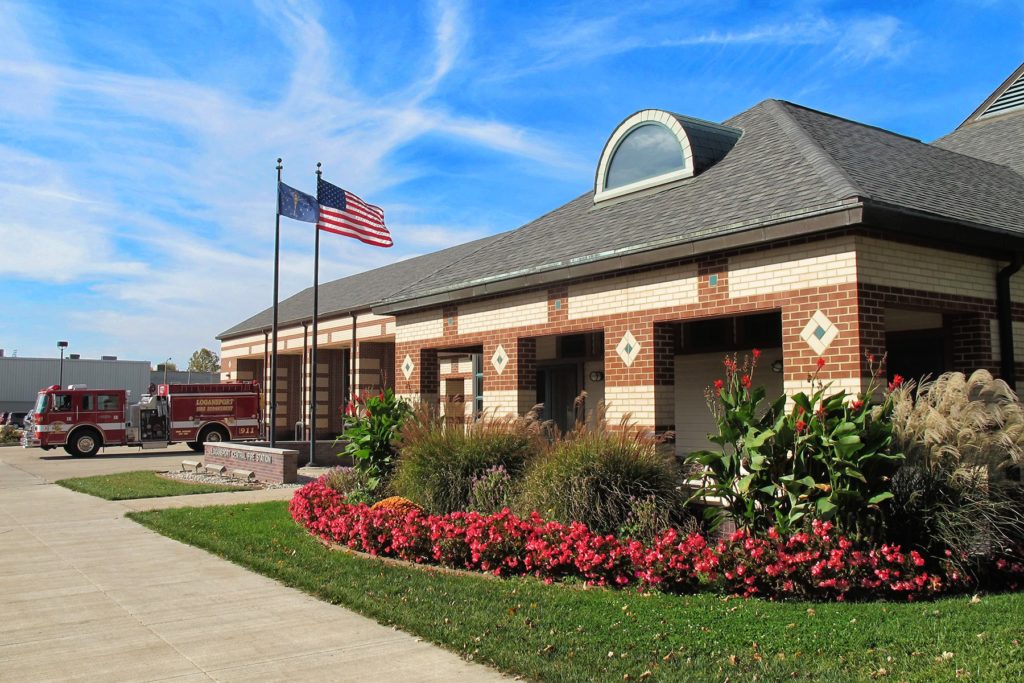 Monthly Fire Report
For the month of October, the Logansport Fire Department answered a total of 137 alarms.
Of those calls, (5) Structure Fires, (9) False alarm calls, (3) Vehicle Fires, (3) Veg./Trash fires, (90) 1st Responder calls, (0) Extrication calls, (0) Rescue, (4) Haz Mat/Oil dry, (2) SVC/ Gas leaks/Assisting other departments, (3) Incidents/Power Lines, (9) Smoke or Odor calls, (9) MVA.
Of those calls, (94) were residential, (6) were Businesses, ( 4) Schools, (1) Hospital, (2) Factories, (3) Nursing Home alarms, (7) Government property, (0) Church, (20) were located on the public streets and highways, and (0) in the River.
On October 1,2017@ 1751 hours we were dispatched for a 1070 alarm at 810 Bates Street Hyper Coil Division. Upon our arrival, we were met with maintenance personnel stating of exhausts tack was on fire.  At the present time, no flame was visible. We laddered the roof to gain access to the stack. During inspection we tested for temperature and verified of no obstruction. We remained on scene for a reasonable amount of time. Maintenance remained on scene to moni­tor stack.  We cleared the scene and there was minimal damage to the property or loss of production.
On October 2, 2017@ 0238 hours we were dispatched to 514 12th Street for a residential structure fire. Upon our arrival we found light smoke inside the resident. During our investigation smoke and heat increased to the point where we evacuated the building. During our re­assessment we began seeing signs and smoke on the rear exterior area. While gaining access to that area we began having fire showing in the walls.  In a short amount of time fire ballooned throughout the lower level and traveled upstairs. We ended up calling in additional manpower and setting at the tower for a more defensive attack.  We also notified utilities and they terminated the utilities to the east end for nearly two hours while we extinguished the fire. Property was a total loss. No injuries to report.
On October 4, 2017@ 2054 hours we were dispatched to 115 W Linden Avenue to an ex­plosion and the house filling with smoke. Upon our arrival we found all the occupants outside and saw smoke coming from the back of the residence. During our investigation, we found smoke throughout the house and heavy smoke in the basement area. We extinguished a fire in the utility area of the basement. We contacted the owner of the property and his partner arrived and was made aware of the situation. The owner provided temporary housing for the renters. The house damage was minimal and kept to the basement area. We cleared the smoke and heat.
On October 24, 2017@ 1858 hours we were dispatched to 901 E Main Street Stony Pike mobile home park for a 1070 trailer. Arrived on scene and found a fifthwheel trailer filled with smoke. Firefighters made entry and found fire in the back part of the trailer in the garage area. Firefighters extinguished the fire and then cleared all the smoke out of it. Investigater was called and the fire was ruled undetermined. Damage was kept to the original area of fire with smoke damage throughout.
Other monthly activities for October included: Visits to local schools and pre-schools, standby for annual River Bluff cancer run/walk, the annual fire prevention week kick-off at the Carousel, Home Depot safety day, Woodbridge public safety day, Crosswinds Church Upwards soccer playoffs, multiple tours, and a very successful Breast cancer t-shirt campaign.
Fire Facts
This information was obtained from the Federal Emergency Management Agency's (FEMA) website. For more on fire safety and education please check out their site.
There were 1,755,000 fires in the United States in 1998. Of these:
41% were Outside Fires
29% were Structure Fires
22% were Vehicle Fires
8 % were fires of other types
Fires in 1-2 family dwellings most often start in the:
Kitchen 23.5%
Bedroom 12.7%
Living Room 7.9%
Chimney 7.1%
Laundry Area 4.7%
Apartment fires most often start in the:
Kitchen 46.1%
Bedroom 12.3%
Living Room 6.2%
Laundry Area 3.3%
Bathroom 2.4%
Fire Department News & Updates
FAQS