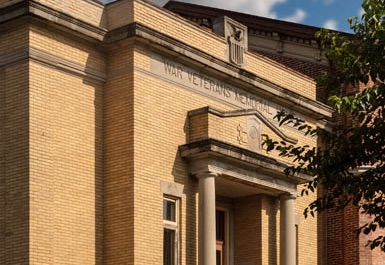 Memorial Center is on the National Register of Historic Places. 
The red brick mansion was built in 1860, and was dedicated as a war memorial 1922.  Over 20,000 people turned out for the dedication.  It was also in 1922 that the yellow brick ballroom, with a gymnasium in the basement, was added. 
This War Memorial is unusual because it is jointly owned by a City and a County.  This year Logansport and Cass County will enter into a joint agreement to maintain and improve the war memorial.  This will be a multi-year undertaking, though it is hoped that portions of the building will be available for events again soon.
After renovation, Memorial Center hopes to rent the ballroom, basement gymnasium, meeting rooms and upstairs offices.